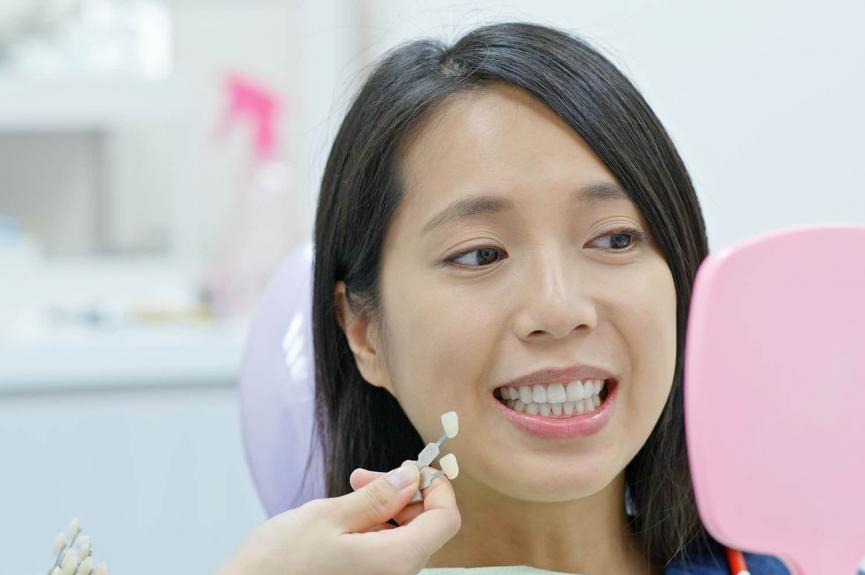 Price/Cost table
| | |
| --- | --- |
| Type of cosmetic/aesthetic treatments in Singapore | Price/Cost $SGD |
| Dental implants | from $1500 per tooth |
| Teeth whitening | $800 to $1500 |
| Composite bonding | $300 to $500 |
| Porcelain dental veneers | $1500 per tooth |
| Inlays and Onlays | $100 - $500 |
A lot of people around the world, including Singapore, are interested in cosmetic dentistry procedures. A big part of the increase of interest in aesthetic dentistry is due to popular media 1. A smile makeover can change a person's look and confidence. Cosmetic dentistry is a great option for people who want to get a nice smile and gain more confidence but it also serves functional purposes. There is a lot of procedures that fall into the cosmetic dentistry category 2 – from teeth whitening to crowns and gums grafting. That's why with this article, we're going to try to summarize all of them, talk in more detail about cosmetic dentistry and costs you might expect from dental clinics in Singapore. We hope this article will serve you well and help you through your smile-makeover journey.
What's the difference between general and cosmetic dentistry?
The main difference between general dentists and cosmetic dentists is their focus on work and services. While general dentists focus on the overall health of your teeth – they would diagnose any issues and treat them such as tooth decay, gum disease and so on. The cosmetic dentists focus more on the aesthetic part – the appearance of your teeth and gums and your attractive smile. So if you want a smile makeover, it would be wise to choose a cosmetic dentist.
Education-wise, both general dentists and cosmetic dentists complete their degree in dentistry. A cosmetic dentist will focus more on aesthetic dentistry during their study and training.
What's involved in cosmetic dentistry?
Aesthetic (also called cosmetic) dentistry deals with various areas of therapeutic and prosthetic dentistry, as well as periodontology, periodontal treatment and surgery, orthodontics, implantology, and other dental care services. Cosmetic (aesthetic) dentistry includes a wide range of procedures that aim to improve the appearance of teeth and the patient's smile 3. Your dentist might use a combination of several procedures that are often used to achieve the desired effect and the perfect smile. Here are some of the procedures you might see at a cosmetic dentist's office.
Teeth whitening
Composite Bonding
Inlays and Onlays
Benefits of Cosmetic Dentistry
There are many benefits to cosmetic dental procedures. A lot of the result from such treatments depends on the wishes of the patient and the dentist's quality of work. Patients can see a lot of improvements not only there in the confidence and aesthetic appearance of their smile but also in their general oral health. We believe that the best results from any aesthetic treatment are achieved by following the natural proportions of the patient's smile and customizing the treatment plan to fit each patient's lifestyle and goals.
Here are some of the benefits of getting a cosmetic dental treatment:
Improving the colour and even tone of the teeth by whitening
Improving the integrity, colour, and shape of teeth with veneers 4
Building and improving the colour and appearance of teeth with crowns
Improving the appearance of the patient's smile with orthodontic treatment procedures
Restoration of missing and damaged teeth with an implant, dentures, and others
Types of Cosmetic Dental Procedures
As we've mentioned already there are a lot of procedures that fall into the cosmetic dentistry category. In this section, we're going into detail in the most popular dental care procedures in Singapore.
Dental Implant
Implants are used when it is necessary to replace a missing or damaged tooth. They are also one of the most searched cosmetic dentistry treatments in recent years. In addition, they provide a fulcrum for crowns, bridges, or prostheses. They are placed in the jawbone by surgical manipulation. Preparation for a dental implant procedure requires specialized analysis of the individual anatomical features of the patient. Usually, dentists use titanium screws they insert in the jaw – it's the supports for the crown. The dental implant is very useful because it is indistinguishable from natural teeth and is very comfortable. Patients use them like natural teeth and don't have to deal with a dental prosthesis.
Dental Implants Cost in Singapore
The cost for dental implants in Singapore can vary depending on several factors including the brand, your dentist's fee, lab fees, the complexity of your case, any medications you might get prescribed as well as anaesthesia. That being said, the cost per one implant can vary a lot in Singapore – prices can go anywhere from $1,500 to $15,000. The cost might include various procedures such as bone grafting, medical examinations, and dental implant surgery. At the end of the day, it's important to know that the final cost will depend largely on your personal case.
Teeth Whitening
Teeth whitening is perhaps one of the most widely used aesthetic dental procedures in decades and one of the sure ways to enhance your smile. A lot of people want to get teeth whitening because front teeth (especially) easily become stained from coffee or other foods and smoking. There are a lot of options when it comes to whitening procedures. Different whitening procedures remove stains or different types of atypical tooth staining, significantly correct the colour, and improve your smile.
Most often, whitening is done either in a dental office - with specialized equipment and materials or at home - under the guidance and control of your dentist. Home whitening is done by wearing special teeth braces made according to the shape of the patient's teeth. They are filled with the so-called bleaching agent and applied for several hours daily. The procedure is usually done within 2-3 weeks.
Teeth whitening cost in Singapore
Teeth whitening cost in Singapore can also vary on a lot of factors. The most important factor seems to be the type of whitening method you're getting. Some procedures are more expensive than others. While there are lots of home kits for teeth whitening, going to a dentist will assure that you get the most effective possible, safely. The cost you might expect for teeth whitening at a dental clinic in Singapore may vary from $800 to $1,500.
Composite Bonding
Composite teeth bonding in Singapore is a relatively easy and not very expensive dental service that allows you to improve your smile by restoring superficially broken or misshapen teeth, changing the shape of the teeth, lengthening the teeth, filling in gaps, or gaps between teeth. It's also used for stained or decayed teeth and is one of the more affordable ways to achieve a beautiful smile. Tooth bonding is usually done with a polymer, which is applied to the tooth and hardened by irradiation with a special lamp.
Composite Bonding cost in Singapore
There are several factors that contribute to the overall cost of composite bonding in Singapore. The most important factors are the number of teeth you treat and the size of the treated area. The price for composite bonding is charged per tooth, so you will pay more if you receive treatment on several teeth. The other important factor to the final cost is whether you'll receive additional cosmetic treatment such as filling a cavity or veneers, for example. That being said, the cost for composite bonding in Singapore usually varies between $300 to $500.
Dental Veneers
Dental veneers are thin scales made of ceramic that are placed on the front surface of the teeth. They are getting more and more attention worldwide from people who want straighter teeth and beautiful smile. They are made individually for each patient and are glued on the teeth to change their appearance. Veneers are used when it is necessary to change the size, shape, colour, and length of the teeth. Good results can be achieved with slightly crooked teeth, discoloured teeth, broken teeth, the distance between adjacent teeth, uneven teeth, for a slight correction in the length of the tooth. Veneers are not as invasive as dental crowns, but their placement is permanent. Dental veneers are used for small dental defects and require proper care on the part of the patient to keep them in good condition. The two most common types of dental veneers in Singapore are composite and porcelain veneers.
Dental Veneers Cost in Singapore
The overall cost for dental veneers in Singapore depends on the number of teeth you treat and the material used for the veneers. Porcelain veneers are more expensive than direct resin veneers. For example, porcelain veneers cost around $1500. The cost you might expect for veneers in Singapore varies between $250 and $2500.
Inlays and Onlays
Inlays and onlays are a type of indirect fillings. They are used for decayed teeth when the tooth can't support a filling. In these cases, an inlay can be placed directly onto the tooth. There are some cases where the tooth cusps are damaged, however. In these cases, an onlay will be used to cover the entire tooth. Inlays and onlays are used for milder cases, for more serious ones your dentist will suggest using crowns.
Natural coloured inlays are far more difficult to spot than amalgam fillings. Sometimes fillings need to be replaced and many people decide to replace them with fillings made of photo composite material that is close to the colour of the teeth. This will make sure that your smile is left unchanged.
Inlay and Onlay cost in Singapore
Depending on the material used for the inlay and onlay, the cost may vary between $100 and $500.
Final Thoughts
Smile makeovers are a popular way to gain more confidence but it can also be a way to improve your overall dental health. Finding the best dentist in Singapore can be challenging because there are so many amazing specialists here. We suggest asking your friends and family for suggestions or search online for the best cosmetic dentist in Singapore. An experienced dentist will be able to show you a portfolio of smile makeovers, so it's a good idea to ask them about one. We hope that this article was helpful!