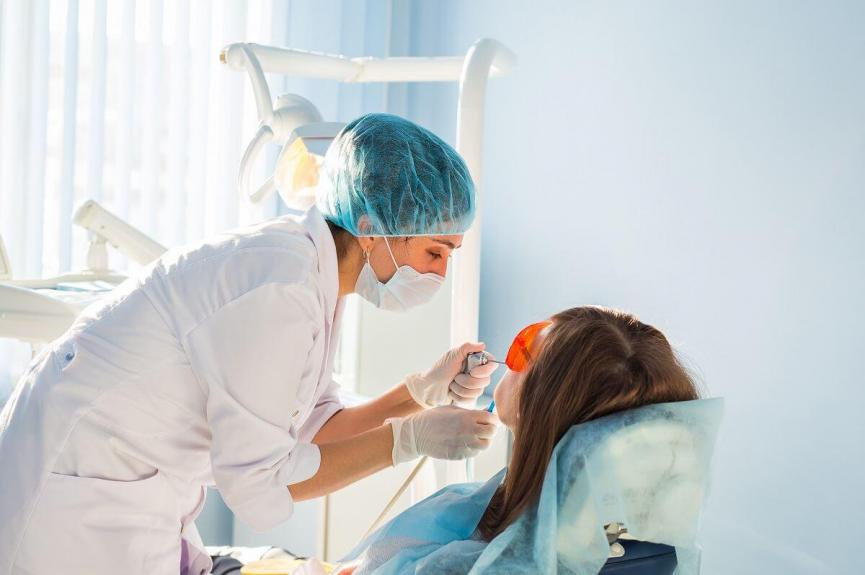 Have you ever wondered how you can become a dental hygienist in the US? We are going to explain to you what does a dental hygienist do exactly and what qualifications and certificate you need to practice this profession.
A dental hygienist is someone who provides preventive dental care for the oral cavity under the overseeing of a dentist. The dental hygienist can clean the patient's teeth and examines their mouths for signs of illness and injury. He also teaches them how to keep good oral hygiene.
Dental hygienist's career is one of the most satisfying and enjoyable careers. It does not only take less time to become a dental hygienist, but there are also many job opportunities available to this profession. All you have to do is get the right education to be a dental hygienist, study the best dental hygiene programs, and start a career that pays a great salary.
What does a dental hygienist do?
Dental hygienists' main responsibility is to clean teeth, examine the gums, they do something called periodontal charting, they also collect medical history and conditions that somebody might have. One of their main jobs is to educate their patients on oral and dental care techniques. They help and give suggestions to the patients about their oral hygiene and how to prevent tooth decay. Other typical duties of a dental hygienist involve X-ray taking, removing hard and soft plaque from the teeth (root planing), including tartar and stains, and applying sealants and fluoride. Dental hygienists mainly deal with preventive dental care and the treatment of the early stages of gum disease 1.
You should not confuse dental hygienists with oral health therapists. An oral health therapist in the US is someone who has qualified in both dental hygiene and dental therapy. Dental therapists provide oral health care and health therapy services to patients of all ages.
Dental hygienist vs. dentist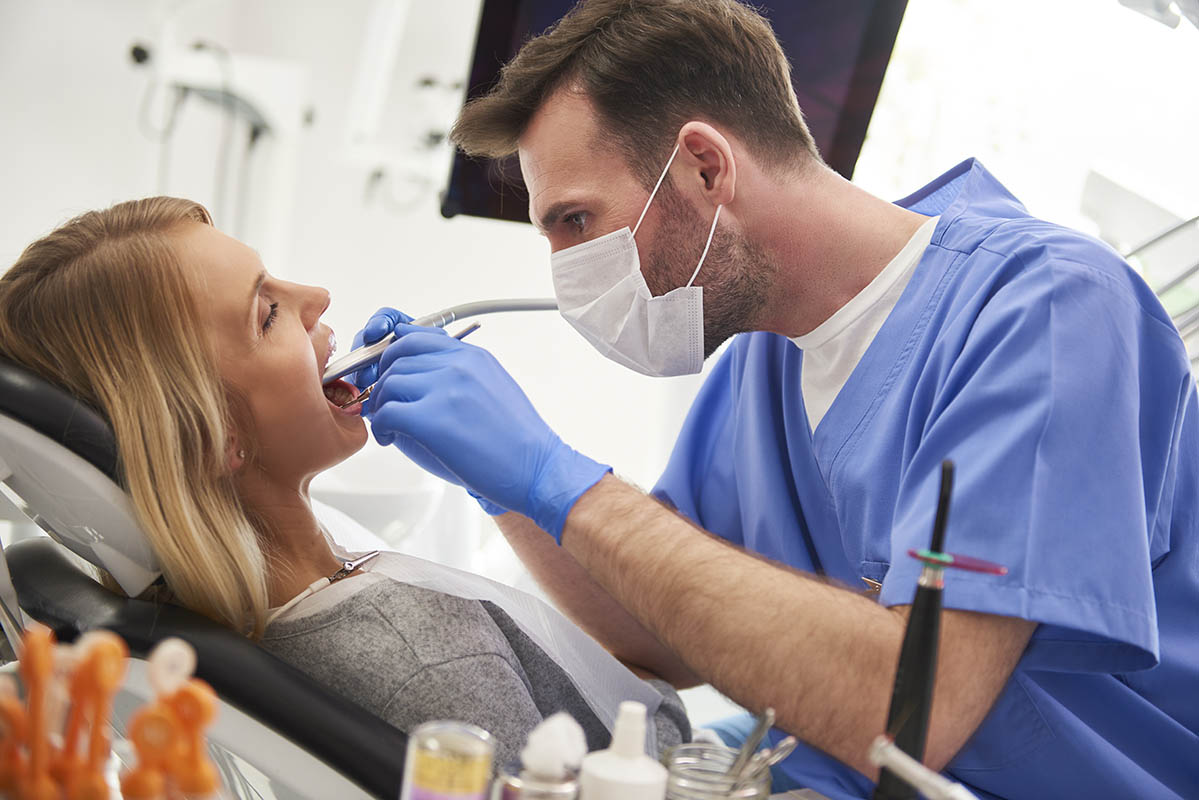 A dentist or a dental surgeon is a doctor who specializes in dentistry, the diagnosis, prevention, and treatment of diseases and conditions of the oral cavity.
Dental hygienists work close together with the dentist and their main focus is on the preventative oral healthcare of their patients.
Basically, the dentist is the one who is doing the majority of the diagnosis and treatment planning. The dental hygienist is going to work with the dentist in order to deal with preventive dental care and oral hygiene.
The dental hygienist is more concerned with the health and keeping of the gums because the gums and bones are the foundation of a healthy mouth.
What are the main educational differences? The dentist is a doctor who went to dental school which is essentially a medical school for the teeth and dental hygienist is not a professional doctor. A dentist needs to do a minimum of 8 years of college to become a doctor. If he wants to specialize and he wants to be an oral surgeon or orthodontist he should study more. For dental hygienists, the minimum years of college are generally three.
How to get a diploma in dental hygiene?
Becoming a hygienist requires completing an accredited dental hygiene program as well as a state license. There are basically two pathways to do that. The first one is to get an associate degree which requires 86 credit hours and the second is to get a bachelor's degree or 122 credit hours. Such accredited programs can be found in the United States or Canada on the website of the American Dental Association. The dental hygienist and oral health therapist are mostly graduated locally. The program for a dental hygienist is normally two years. To get a diploma in Oral health therapy you will need 3 or 4 years of qualification. For those professionals who are interested in teaching in dental hygiene programs or for research or administrative roles, there is a master's degree in dental hygiene.
They also will need to pass a written national broad and clinical exam.
Educational requirements
According to ADHA, admission requirements vary from school to school. However, most programs require the following for admission to an accredited dental hygienist program:
High school diploma or GED;
A minimum secondary level of secondary education at level C. It must include courses in mathematics, biology, chemistry, and English;
40 hours of college prerequisite, usually involving chemistry, psychology, and English.
In addition, most schools also influence the results of college exams, as well as performance in a personal interview, written essay, or skill test. Because dental hygienists work with their hands all day, in a small space, they must have the physical capacity to make precise movements with both hands.
What soft skills do you need?
First of all, you would need to determine if being a dental hygienist is something that you can do on a daily basis. Practising this profession you have to look in people's mouths all day, you need to take x-rays, you would need to be able to have good bedside manners with the patients. So if these are things that you easily acquire and that's something that you could do then definitely you need to contact your nearest college or institutes.
People who have certain characteristics are more suitable for this profession than others. In addition to your diploma, you will need to have some soft skills such as:
Compassion: The desire to help people is necessary for this career, as well as for others in the field of healthcare.
Manual dexterity: You need excellent fine skills to catch tools and work inside patients' mouths.
Interpersonal skills: When dealing with patients, you need to be able to connect with them and to recognize when they feel uncomfortable or nervous.
Attention to detail: If you don't pay attention to detail, you will not be able to perform several aspects of your work. When you do cleanings, this will allow you to notice stains and other things that you can treat. When you are examining, you should be able to notice potential health problems that will require the attention of a dentist.
Physical endurance: Excellent endurance will allow you to spend a lot of time on your feet and bend while treating patients.
Work environment and schedule
Most dental hygienists work in clean, well-lit dental clinics. The schedule may vary from part-time to full-time based on the needs of the employer and the employee. The flexibility of the schedule is one of the many draws for a career in dental hygiene. In addition, hours are limited to a dentist's standard working hours, so dentists do not have to work in the evenings or on weekends, as many other health professionals often do.
How much does dental hygienist gets paid?
According to SalaryExpert, the average wage for a dental hygienist in the US is $77,837 or an equivalent hourly rate of $37 2. You may make more or you may make less than that. If you are just starting out you will probably make a little bit less than that because you have to keep in mind some people have been in it for decades and so they are earning at the highest real possible and you are an entry-level so you probably earn a little bit less. However, you can always move up which is pretty good. The highest level dental hygienist in the US may earn around $96000 and the entry-level earns an average of $55000 which means around $4000 to $8000 per month. Normally, a single procedure such as teeth cleaning at the dental hygienist cost between $100 - $200.
Some of the factors that can affect the salary are the place in which you live and the industry in which you work. According to researches the industry with the highest level of employment for dental hygienist are offices of dentists, employment services and offices of physicians. The top-paying industries are business and professional organizations, offices of dentists, and employment services.
How much does it cost to see a dentist?
Dental treatment cost in the US depends on many factors. There are a lot of dental clinics so it is sometimes difficult to choose where to book an appointment. The biggest factors in cost come down to where you want to go - private dental clinic or at a polyclinic, and what kind of dental service you need - are you going for regular check-ups or teeth whitening, wisdom tooth extraction, or maybe for dental implants. In addition to that, your location - both city and state - matter a lot when it comes to pricing. Keep in mind that the price for the different dental services may vary dramatically. Here are the average prices for some of the most common services:
teeth whitening - between $400 - $1000;
wisdom teeth removal - $600 - $800 per tooth;
dental implants - $3000 - $4500.
All dental services that are not considered cosmetic dentistry are Medisave and insurance climbable. Read our full article on dental insurance in the US for more information.
Importance of dental care - why is preventive dentistry important?
Tooth decay is the number one chronic health condition of children 3. Oral diseases have been termed a "silent epidemic". There is sufficient evidence that inflammation, particularly in the oral cavity, affects not only your teeth but also the rest of you.
Today preventive dental care is really about saving lives. There so much information out there, published literature that speaks to the connection of oral health to systemic health and the relationship of the impact that it can have on systemic diseases - things like diabetes, cardiovascular disease. The key to breaking the cycle of oral disease is education, prevention, and access to routine dental care. Prevention should be the central part of any health service delivery and that's the most important part. It is always better to do prevention first than to treat.