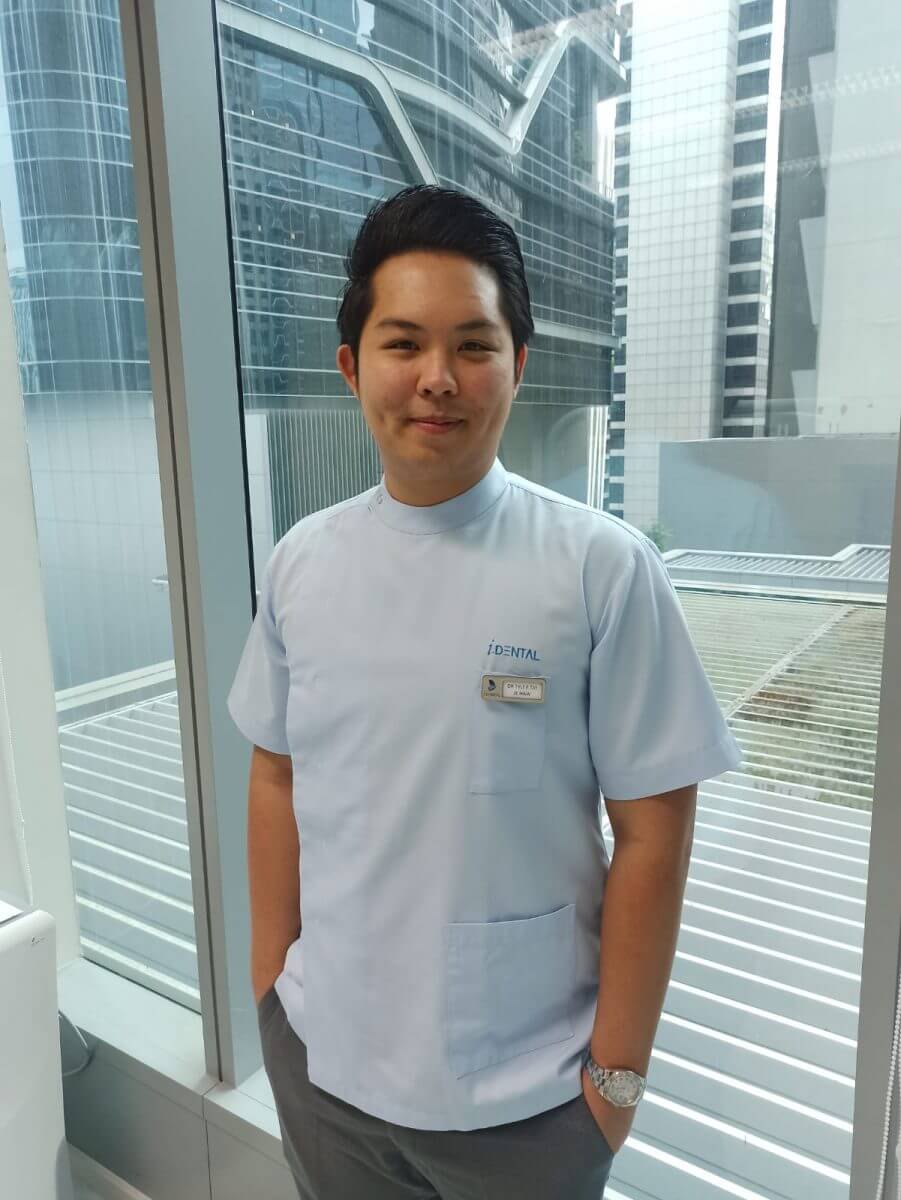 Today we had the pleasure to meet Dr Tyler Tay from i.Dental clinic, who was kind enough to dedicate some of his time to talk to us and answer some of our questions about dentistry, oral health in general and Invisalign, among others.
Dr Tay is an associate dental surgeon at i.Dental clinic, specifically in their dedicated Invisalign branch. He graduated from the University of Western Australia where he got his Bachelor of Dental Science degree. Before returning in Singapore's private dental practice, he was practising in the Oral Health Centre of Western Australia in Perth.
His professional qualifications include:
Bachelor of Dental Science, University of Western Australia
Member of Singapore Dental Association
Member of the College of General Dental Practitioners, Singapore
Accredited Invisalign provider
Hello Dr Tay, I appreciate you taking the time to talk to us. Can you introduce yourself to our readers and tell us a little bit about your background?
Dr Tay: Hello, thank you for having me. I am Dr Tyler Tay, an associate dental surgeon in i.Dental Invisalign Dedicated Clinic. I graduated from the University of Western Australia, Perth and have since practised privately in Singapore.
Have you always wanted to be a doctor and why did you choose to become a dentist?
Dr Tay: Why choose dentistry? For me, there are many reasons. One of the main reasons is that I always wanted to get into healthcare, and there was a choice between medicine and dentistry and dentistry won. Being able to help and meet people from all walks of life, working as a part of a team (dental hygienist, assistant, and lab technician) are also some of my strong reasons. Besides that, I am also able to exercise creativity in my daily work as dentistry is often referred to as an art, requiring a combination of creative and scientific skills. Last but not least, I had a memorable experience with a dentist as a very young patient – it got me thinking about what dentistry was all about for the first time.
You graduated from the University of Western Australia. A lot of dentists in Singapore have studied in the UK or Australia, why do you think that is?
Dr Tay: For me, I have always wanted to pursue my studies somewhere not too far from home, but not too close to home either, and so, Perth is a great choice! This way I can go back home more frequently without the dreadful long flight hours. Apart from that, studying overseas also helped develop my confidence and independence. Making new friends, expanding career opportunities, and experiencing a different culture are also some of the reasons.
What are the differences between studying dentistry in Australia and Singapore?
Dr Tay: One of the main differences is the duration of the course. During my time as a student, a degree course in Australia takes 5 years, whereas it is only 4 years in Singapore. (Currently, many dental schools in Australia now require graduate entry – which means one will have to have a degree before applying for dental school). I think that the teaching style which includes the language, placement options and syllabus structure is also different. Nevertheless, I believe both Australia and Singapore are great places to study dentistry!
You've worked in both busy metropolitan and rural areas. What was that like and did you notice any differences between the two?
Dr Tay: Yes, rural areas are generally more relaxing and laidback, whereas in the metropolitan areas everything is more formal. The peaceful countryside environment by itself is different from the buzzing city environment. I still remember when I was practising in rural areas, we had 2 tea breaks and 1 lunch break in a 9.30 am to 4.30 pm workday!
There are differences between the patients we treat in both areas too. In metropolitan areas, dental treatments are generally more inclined towards oral health maintenance and aesthetics. On the contrary, the rural areas that I practised at do not have a water fluoridation system in their water supply. This caused the residents there to have a much higher prevalence of dental caries. Therefore, treatments in rural areas involve a lot of dental fillings, root canal treatment and extractions.
You're trained in oral surgery, orthodontics and aesthetic treatments. Do you have a favourite treatment that you enjoy more than others?
Dr Tay: Although I always have a keen interest in oral surgery, I am increasingly enjoying orthodontics – the treatment of straightening teeth. Although stretched over a longer period, transforming and beautifying a patient's smile sure is satisfying!
What is your favourite part about working in dentistry?
Dr Tay: It makes my day when a patient walks in nervous or even scared but leaves saying, "I don't know what I was so nervous about!". Besides that, being able to transform the patient's smile and increasing their self-confidence are also my favourite part about working as a dentist. A flexible lifestyle and working with my friendly team are also my favourite parts. Apologies, I have so many "favourite" parts!
What about the opposite - is there anything about being a dentist that you're not too keen on and would prefer to change?
Dr Tay: There is one problem that I am sure many dentists face as well. It is our operating posture – ergonomics. Too often, many dentists only concentrate on the patient and neglect their own posture which increases the risks of musculoskeletal disorders such as neck and back pain. For me, this problem is amplified, probably due to my slightly above average height :). Numerous studies have shown a high prevalence of MSDs among dentists. Therefore, it is very important to maintain a straight posture and include active stretching in between patients. Practising yoga has also been proven to help reduce the likelihood of developing MSD. However, it is easier said than done!
What are the main benefits of Invisalign that make it so much more popular than other similar invisible aligners?
Dr Tay: There are many ways Invisalign differ from other invisible aligners. The main benefit is their patented technology – from diagnosis to active treatment. Invisalign has its proprietary Clincheck software, allowing the dentist to customize a treatment plan based on the 3D scan of the patient's teeth using the iTero scanner. They also developed a patented SmartTrack material, which is engineered to fit the teeth more accurately, reducing treatment time. Other features include the SmartForce attachments and SmartStage technology, which work together to enable complex teeth movements. All these are developed based on years of research on data from 10 million patients and counting.
What is the preferred age to start treatment with Invisalign?
Dr Tay: In general, there is no preferred age to start. With Invisalign First aligners launched in 2018, patients as young as 6-10 years old can start treatment with this system which has been developed with features specifically for younger patients with an early mixed dentition – a mixture of baby teeth and permanent teeth. This early intervention allows the dentist to intercept and help mitigate any potential developing problems related to the child's teeth and jaw.
Can anyone benefit or are there people who aren't eligible?
Dr Tay: Most people can benefit from Invisalign but there are some situations where clear aligners may not be suitable. Some examples include an impacted tooth that requires orthodontic traction and patients who feel they are not able to commit to wearing aligners for at least 20-22 hours a day. Patients with active periodontal disease are also not advised to start Invisalign treatment until their oral hygiene has improved.
In your experience, how long does the Invisalign treatment last on average?
Dr Tay: The duration of treatment varies according to the complexity of the teeth condition. Generally, it ranges from 6 months to 2 years, but some cases can extend longer.
What happens after the treatment is over, do people have to wear retainers to maintain the results permanently?
Dr Tay: After teeth straightening, the bone around the teeth would have softened – a process called "bone resorption". This allows the teeth to move into their final positions. Therefore, yes, you will need to wear retainers to hold these teeth in place while new bone is deposited. There are also several other variables that can cause the teeth to shift. We normally advise patients to wear their retainers full-time for the first 6-12 months, then gradually transition to nightly wear. In the long term, some interaction with retainers is recommended, even if it is as little as wearing them once or twice a week.
It seems like invisible aligners have almost completely replaced braces. When is it more appropriate to get braces instead?
Dr Tay: There are still many patients who prefer braces over Invisalign. There are various reasons. The main one being the patient's compliance. Some patients do not wear their aligners for the required number of hours – hence their teeth do not move as planned. With braces, on the other hand, compliance is ensured, causing less disruption to the treatment. Besides that, braces can be more effective in resolving serious malocclusions such as impacted teeth, severely tipped and severely rotated teeth. Some patients – especially the younger ones – like the appearance of wearing braces with colourful modules that they can change every appointment. Lastly, the cost of treatment plays a role as well.
You put a lot of emphasis on putting patients at ease and treating them with empathy and care. What is the most important thing a dentist should do when they meet an anxious patient for the first time?
Dr Tay: Putting yourself in their shoes and thinking from their point of view. Always spend some time building rapport and listening to their concerns, be patient and try not to rush or force a treatment when a patient is not ready. I also like explaining every step before I do something (especially when it involves needles or drills) so that the already anxious patient will not get startled. Lastly, make sure the patient is fully numbed and anaesthetized before starting the procedure.
The last year and a half must have increased the number of anxious people you have to work with. Has the pandemic made your work harder and if so, in what ways?
Dr Tay: I believe that the pandemic has not affected our work in a negative way. The only thing I can think of is the need for us to put on extra personal protective equipment (PPE) which can be warm and stuffy. LOL, sometimes the water vapour fogs up my face shield – but we cannot adjust it mid-way so I try to find a clear gap through the face shield!
A couple of personal questions in the end, if you don't mind. Do you remember your first-ever visit to the dentist and how did it go?
Dr Tay: Yes, I can't remember the exact age, but I was complaining of a toothache and my parents brought me to the dentist. I was apprehensive at first, but it turned out to be very pleasant actually; I can still recall the slight sensitivity during the filling procedure but overall, it was not a scary experience. The dentist was very gentle and patient, in fact, he was an inspiration for me into thinking of pursuing dentistry. Therefore, the very first visit to the dentist in one's life is a very important one! Dental anxiety and fear normally stem from an early dental experience that was unpleasant or painful.
Improving people's health and self-confidence must be very rewarding in itself, but it can be demanding as well. How do you relax, do you have any hobbies that you engage in your free time?
Dr Tay: Spending time with my family and playing with my highly energetic toddler son which can be just as demanding! Lol, apart from that, I also enjoy playing basketball and watching movies while sipping a glass of wine.
That's all from us for now. Thank you again for taking some of your precious time to talk to us.
Dr Tay: It's a pleasure, thank you once again for having me :) Stay safe!
---
You can visit Dr Tay at the i.Dental Invisalign Dedicated Clinic and i.Dental at Northpoint
Address: 168 Robinson Rd, #13-04 Capital Tower, Singapore 068912 / 1 Northpoint Drive, #B1-176 Northpoint City, Singapore 768019
Phone: 65 6323 2813 / 65 6756 1868
Web: https://idental.com.sg