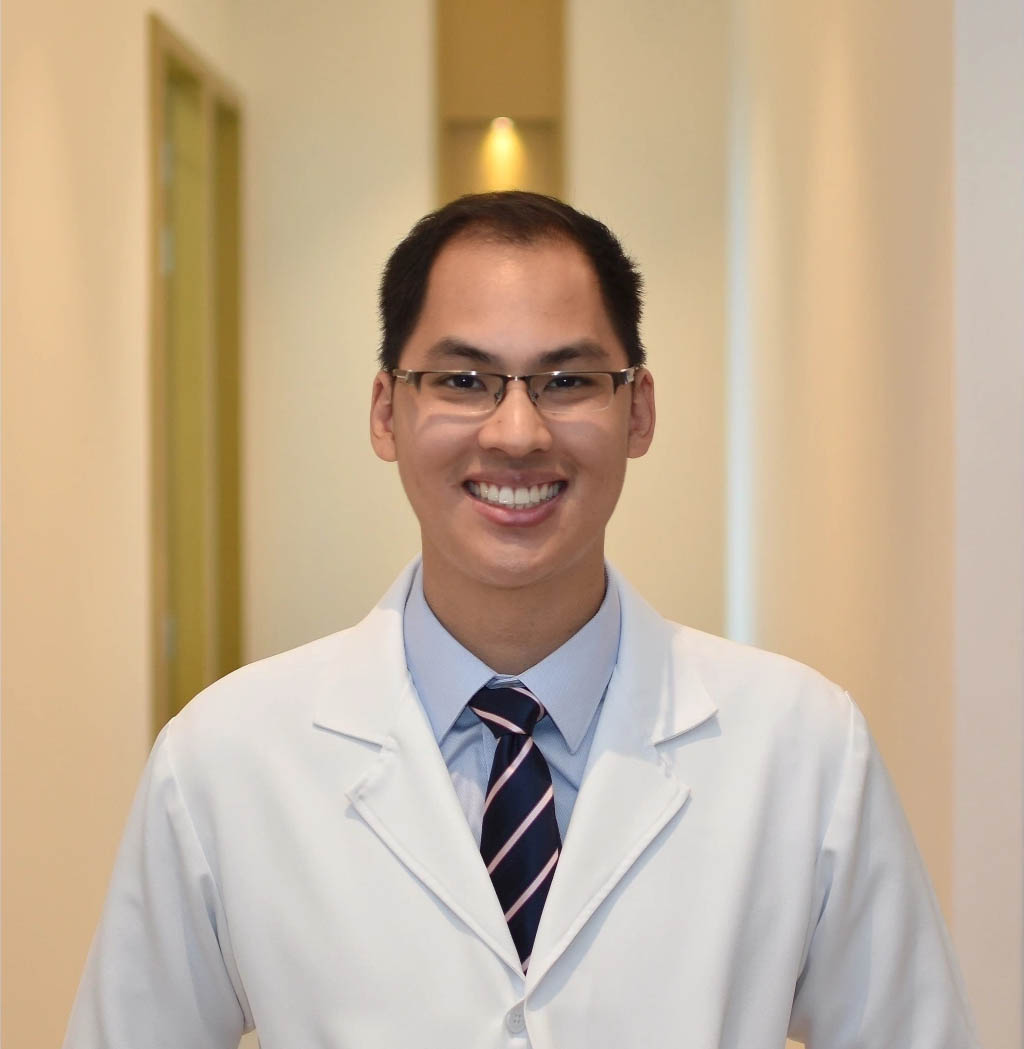 Dr Bryan Too graduated from McGill University where he got his Doctor of Dental Medicine degree. Expanding his professional expertise, he continued his studies in Advanced Education in General Dentistry at the University of Connecticut Health Center. After moving and working in Singapore for a few years he decided to open up his own dental clinic - Dental Forte. 
Hello, Dr Too! Could you briefly introduce yourself to our readers? Where are you from, where did you study, what is your main speciality?
Dr Too: My name is Bryan Too. I'm a Canadian dentist who moved here in 2014 having graduated from McGill University in Montreal and completing a year of residency at the University of Connecticut Health Center in the U.S.A. I'm a General Dentist who enjoys just about every aspect of the profession, especially the cosmetic aspect and restoring teeth to their former glory!
Did you always want to become a dentist? What drew you to the dentistry field instead of specializing in other medical fields?
Dr Too: I have always had an affinity towards the sciences, but like many students applying for university, I did not know what I wanted to do. I applied to dentistry as it was the most difficult program to get into as they only accepted ten students per year, and I was also pretty good in art. Dentistry seemed like the best fit.
Do you remember your first visit to the dentist? How was it, what were your impressions?
Dr Too: I do not recall my very first visit, but do remember that as a kid, I never had any issues seeing the dentist and it was always an easy time. This is something I want to impart to all of my young patients.
How many years of experience do you have working professionally?
Dr Too: I graduated in 2013, so eight years.
What do you find most rewarding about your work?
Dr Too: Being able to change people's mindset on how they see dentistry. It's incredibly rewarding to have an extremely stressed and anxious patient say they did not feel the anaesthetic, then feel relaxed enough that they fall asleep during the appointment, and wake up to see their "new tooth" without being able to tell which tooth was worked on. 
What is the most challenging part of your job?
Dr Too: As a general dentist, one must be prepared for anything on any given day, be it the emergency of a chipped tooth, pain from an infection, etc.
Managing everything can be challenging, especially when it comes to patients' expectations. To ensure that everyone is on the same page, I always take the time to have an open discussion with them before starting any treatment, and we have had great success with this approach.
Coming from Canada and then the US, moving to Singapore, the environment here is quite different. Culturally there are many differences as well. Was it hard for you to adjust to all the changes?
Dr Too: It wasn't exactly difficult for me to adjust, but it took me some time to get the hang of Singlish. I'm still perfecting my Singlish, but I am lucky that I have Singaporean friends and staff to help me out!
As for the local food, I am enjoying every bit of it. I remember gorging on chicken rice every day during my first year in Singapore, and the very first time when I was asked to try durian. I was glad that I did because I became a massive durian lover!
With regards to dentistry, ultimately people are people. Many have the same fears and anxieties, so my approach may have differed, but the goal of alleviating those fears and delivering an outstanding experience remained the same.
What are the main differences between being a dentist in the US and in Singapore? Did anything surprise you?
Dr Too: There are a lot of similarities in the dentistry itself and that made the transition moving here quite easy. Still, there are some differences that I did notice.
One thing that did surprise me was hearing from a number of patients that some clinics do not tell them the cost of treatment beforehand. Informing patients of their treatment fees is something I always do before anything is started to avoid miscommunication.
Also, back in North America, we are used to working closely with Oral Health Therapists (hygienists) for our patients' hygiene visits. This is not a new concept in Singapore as the first batch of Oral Health Therapists graduated from Nanyang Polytechnic in 2006. However, most patients weren't introduced to this concept until recently, hence we are still seeing a large number of patients who aren't accustomed to this routine.   
Do you find that people in Singapore have a different attitude towards dental health professionals?
Dr Too: In general, most patients carry similar attitudes towards seeing dentists regardless of where they are. One difference I encountered in Singapore was patients asking for discounts.
From the patient's point of view, I understand that receiving a dental restoration (filling) simply means "patching up a hole in their teeth". So why do some clinics charge $60, while others charge $300? What most patients aren't aware of is the difference in quality and the long-term outcome of the work.
This is the reason why I emphasize taking and showing before and after photos to reassure my patients of the work that I do and the reason for our charges.
In your profile on Dental Forte's website, you mention that you've worked with "medically compromised patients". Could you elaborate on what that means? When is a patient considered to be compromised and what are the challenges associated with working with patients like that?
Dr Too: Many of the patients I treated at the University of Connecticut Health Center were hospitalized and could not leave the hospital. Many were on such a significant number of medications that they would have to bring a binder to list them all! Before the start of any dental treatment, we would have to make sure those medications did not interfere with the work being done and vice versa.
For example, if a patient was on blood thinners but needed a procedure that might cause significant bleeding, we would have to take certain measures to ensure that the procedure did not adversely affect the patient's health.
What motivated you to open your own dental clinic?
Dr Too: I wanted to deliver a dental experience that was exceptional in every way. This includes how our team members converse with patients, schedule their appointments, and receive them at the clinic. It also includes the way consultations, discussions with patients, and dental procedures by dentists and hygienists should be done, and how our team members assist with post-operative care and follow-ups.
Opening my own dental clinic allowed me to be in control of these factors and ensure the same high quality of care for everyone. This also allowed me to select and choose excellent equipment and treatment materials that I feel every patient deserves. Lastly, one of the more fun parts was actually designing the look and feel of the clinic!
I have to admit, I really like the name "Dental Forte". It immediately tells me that the people behind the name have great confidence in their skills. How did you come up with it and was that part of the reason why you chose it?
Dr Too: Thank you so much! Being from Montreal, Canada, I am bilingual in both English and French. I wanted a name that communicated this but also had meaning behind it. "Forte" means "strong" in French, and also means "something you excel in" in English. It was the perfect fit. 
In your experience, what's the key to developing a good team? Living up to the name is a daily challenge I assume, picking the right people is extremely important not just in terms of skill but teamwork as well.
Dr Too: Our strong teamwork arises from understanding each other and the company's focus. All of us know the core values of the company and we try our best to achieve them. We place emphasis on the patient experience and keep that in mind in everything that we do (including when designing the look and feel of the clinic).
When we have team meetings, we do it with an open-door policy: each of our team members know that they have the chance to voice out their opinions, suggestions, and even frustrations. I believe that these meetings are productive because we genuinely care about each other's feelings, and we are always looking for new ways to improve and innovate.
In your opinion, what sets you apart from other dental clinics in Singapore?
Dr Too: The patient-centred service, the atmosphere in the clinic, the design, the setting, the technology, the treatment, the empowerment. I think we have managed to meld all of these together quite brilliantly. By having a calm environment, by adding personalized touches, by showing patients exactly the kind of treatment they are receiving, builds trust and transparency and empowers patients to take control of their oral health so that dentistry does not have to be a scary subject.
How do you balance the business side of running a dental practice with the health care side of it?
Dr Too: It's not always easy, but I was and still am under the belief that if we can provide the best quality of work to our patients, the business will naturally thrive. I will never sacrifice the quality of my work for a profit.
How would you handle a patient who is scared of dentists?
Dr Too: One of the important things to do is to gain their trust, and one way of achieving that is by explaining everything to them. I am extremely open and transparent with my patients and will take as much time as they need.
I once had a patient (who hadn't been back to the dentist in years) pace for 45 minutes before the appointment because he was afraid of the tooth extraction and he was petrified of dentists. But in the end, we managed to do the extraction and because that confidence was built, he voluntarily came back for his remaining dental work, and now comes regularly every 6 months for check-ups.
Are there many patients that are scared or anxious or is this a thing of the past?
Dr Too: Absolutely! Many have traumatic experiences from their childhood dental visits where they might have been treated roughly or with impatience. My goal is to enlighten and show them that it does not have to be this way. It is really amazing how these acts of kindness and empathy go a long way.
You've built a reputable clinic with hundreds of positive reviews online. Do you think about expanding or is your focus still on providing the best possible care in one location and let people come to you?
Dr Too: I have not thought of expansion as I feel that that might diminish the quality of care I can provide. Right now, the focus is still on making sure the clinic remains where it is and continues to flourish. I have recently been joined by Dr Natalie Phoon and our hygienist, Ms Toh Ethel, whom I am confident are able to provide the same high quality of care Dental Forté is known for.
In your professional opinion, which are the most important advances in technology and treatment methods in the last 20 years?
Dr Too: In recent years, I do enjoy being able to take digital scans of my patients' teeth instead of using impression putty. This makes the appointment less tedious for my patients, especially if they have a strong gag reflex. This also allows us to do smile simulations and get colour-accurate prosthetics like crowns made more easily.
Is dentistry a field that requires you to stay up to date constantly with new techniques and technologies? If so, how do you keep up with all the new developments?
Dr Too: Dentistry changes so fast and there are so many new developments every year. The SDC requires a minimum of 70 hours of continuing education every two years, and I myself did over 400 hours in that time. It does not feel like work when you're learning new things that you enjoy and can employ to benefit your patients.
What are you most excited about relating to the future of dentistry?
Dr Too: Currently there are more and more uses for 3D printing. There's also an early promise of enamel "regrowth", something that may make composite restorations obsolete.
What are the most common mistakes people do when it comes to their oral health?
Dr Too: Not making flossing a habit at a young age. Most people brush 2 to 3 times per day, but they still end up with cavities between their teeth or with tartar underneath their gums. What people don't realize is that if they just brushed twice daily, flossed nightly, and visit the dentist every six months for routine cleaning, most of their problems would be resolved.
Aesthetic dentistry has been increasing in popularity. What are some of the misconceptions people have regarding aesthetic procedures that you've come across?
Dr Too: Most recently, it would be "resin/composite veneers" offered by beauticians who are not licensed dentists. Unfortunately, all too often I will see patients who have had these veneers result in significant gum problems and even bone loss because they were done poorly.
The take-home message: Always consult a recognised professional.
How safe are modern teeth whitening procedures? Since it's one of the things that people need to do repeatedly to maintain the results, does it pose any danger to our oral health?
Dr Too: In general, teeth whitening is quite safe if the teeth are in good health, do not have underlying conditions, and if it is done properly with proven and verified whitening products. This is another procedure that you should first consult with your dentist about to make sure that you are good to proceed.
There are conflicting opinions about the benefits of regular flossing. What is the consensus among practising dentists about the pros and cons of flossing?
Dr Too: I wouldn't say that there are conflicting opinions. Just floss. There was a report in 2015 in the US by the federal government that "acknowledged the effectiveness of flossing had never been researched, as required." That does not mean flossing is ineffective. Flossing is one of the cheapest and most effective ways of preventing a whole slew of oral health problems. Of course, this is provided that patients are flossing the right way.
In our research, we've noticed that in recent years dentists and surgeons have moved away from the idea that wisdom teeth need to be removed even if they aren't causing any problems. Is that a practice you agree with and why?
Dr Too: Absolutely, but it depends on the individual's case. If the wisdom tooth is fully out and hygiene is good, then it can be treated like any other tooth and does not need removal. Unfortunately, the wisdom teeth are located quite far back in the mouth which makes it difficult for the majority of people to keep them clean. As bacteria gather around the area, it can cause gum infection and tooth decay, so there is a higher chance that they will eventually require removal.
One of the more common questions we get about dental implants is how long the procedure takes. People seem to be worried about having a period with a certain amount of missing teeth. Can you explain briefly about the procedure from start to finish?
Dr Too: As much as possible, I will advise patients to not have a temporary tooth on the missing space to promote healing. However, for visible areas like the front teeth, we can prepare a temporary tooth for you to wear during the waiting period.
In general, a normal dental implant procedure requires 6 – 7 months from start to finish if the patient requires tooth extraction. Once the tooth is removed, we have to wait approximately 4 months for the bone to fully regenerate in that space. A review session will be scheduled to check on the integrity of the bone recovery. If the bone quality is good and sufficient, we can proceed with the implant placement surgery.
After the implant screw is placed, we have to wait approximately 3 months for osseointegration, which means the integration of bone and implant screw. If the integration is successful, it will take another 2 weeks for the implant crown to be fabricated and issued to you.
* Things that might cause prolonged treatment duration includes bone grafting procedure, infection and failure of osseointegration.
What are the easiest steps people can take to maintain good oral health outside of regular brushing and dental checkups?
Dr Too: Once again, flossing and using fluoridated toothpaste. What about sugar, you might ask?
It is not how much sugar you take but how often you take it. The best time to go for your sugary treats is within your meal times as your mouth is still producing a high level of saliva, and this helps to "wash" away the sugar in your mouth. It is also a good habit to rinse your mouth once you are done with your meals.
How has the pandemic and the lockdowns affected people's oral health?
Dr Too: Before COVID, people could travel or organise social gatherings whenever they wanted and they mainly took time off work for these activities to relax and enjoy themselves.
Since the pandemic, I think people started to realise that they needed to spend more time focusing on their health instead. I remember seeing news on social media that more people started to adopt healthier lifestyles and take part in healthier activities such as jogging, yoga, weight-lifting, etc.
After Circuit Breaker, we started to receive a higher number of enquiries and appointment bookings from patients who hadn't seen a dentist for a while, and we are still seeing this trend.
All in all, I think one of the few positives that came out from the pandemic is the greater importance that people are putting on health.
What challenges has the pandemic put on dental practitioners such as yourself, have you had to change the way you work significantly?
Dr Too: After the lifting of Circuit Breaker, all dental clinics had to abide by some new regulations set by the Ministry of Health, such as: Not accepting walk-ins, no congregation of different groups of patients in the same waiting area, and additional intervals between each appointment.
Even with the new regulations, I wouldn't say that it has greatly affected us, especially not in the aspect of Infection Control. That's because as a dental clinic, we are expected to uphold a certain standard regardless of the situation.
And now the most controversial question - Which is your favourite sport and favourite teams respectively?
Dr Too: Being from Canada I should say hockey, but growing up, I was more of a basketball fan. No real controversy there, I don't really have a favourite sports team :).
Do you have any final piece of advice for our visitors that we didn't ask you about?
Dr Too: Given that trust is the foundation of all kinds of relationships, it is important to find a dentist you feel comfortable asking questions of and having discussions with, and that you trust that he/she is offering advice and treatment options in the best interests of your oral health. When patients have had a less than satisfactory dental experience, it may have been the result of the lack of trust in the dentist they saw and potentially made worse by miscommunication.
However, I have to say that there isn't a fast and hard rule when it comes to deciding who to trust. To avoid this dilemma, one piece of advice is to find out more about the dentist you are considering seeing. Read up on his/her clinic's Google reviews, find out if any of your trusted friends or family members have been attended by the same dentist, and lastly, see what kind of vibe you get when you step into the clinic and when you meet the dentist.
Building trust and being honest and transparent to patients is something that we do in Dental Forté. To prevent miscommunication, here is a list of things that we do:
Explaining to patients the list of treatment options available for their dental concerns
Informing them of the treatment fee before we start the procedure
For major dental work, we put together and send them their treatment plan which consists of their oral photos, dental x-rays, treatment options, and treatment fees
Empowering our patients by respecting their choice and decisions for their oral health
I hope this advice will be able to help!
I'm sure it will be! Thank you again for taking the time out of your busy schedule to talk to us!
---
I hope you've found this interview both helpful and interesting. You can get in touch with Dr Bryan Too and the rest of the team at Dental Forte at:
Address: 101 Irrawaddy Rd, #19-04/05 Royal Square at Novena, Singapore 329565
Phone: +65 6553 6783
Website: https://dentalforte.com.sg/