Address:
10 Sinaran Drive Unit 08-15/16 Novena Medical Centre, 307506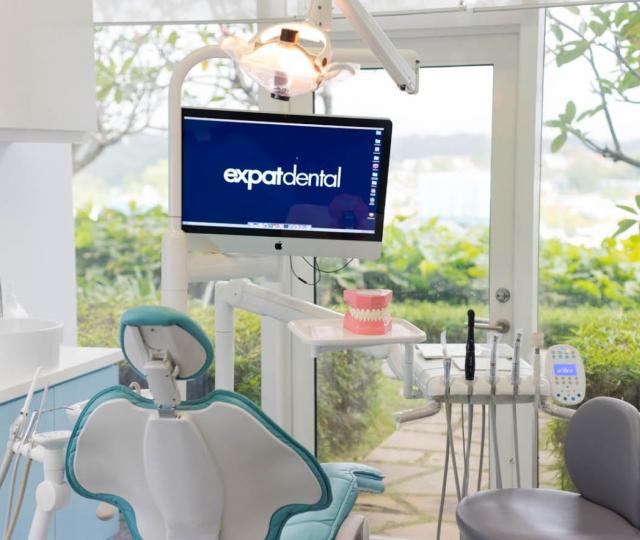 Customer Reviews
Google review:
Keith Mernovage:
WOW!! Dr. Shaun has put together an amazing practice! For some reason I've been reluctant to go to a dentist here in Singapore. I don't know why as I have had absolutely superior care since I've been here. Anyway, I had to go as I had a filling come lose and I was completely blown away. My dentist in the US is really good and I've gone to him for years. But Dr. Shaun and his team are at a whole different level. And Iris who did my cleaning and preliminary exam...there are not enough superlatives to describe how good she is. I was the guinea pig for my family and I texted my wife from the lobby after my cleaning to tell her how good Iris and Dr. Shaun are. I now have appointments for my son and my wife scheduled. Dr. Shaun should be very proud of his staff and the practice he has built. Keep up the great work, you are a model provider.
Yelp review:
Miguel M.:
Do you want a Ferrari or a Civic? That's what you should be thinking about when you are considering using the services of Expat Dental 'cause Expat Dental is like buying a Ferrari. Bar none, you will get the best dental experience you've ever had. Even If you're from the States, arguably the best place for dental care, Expat Dental will blow your last dental experience away by two-fold or more. The roster of dentists hail from the known developed markets of the world: including US, Australia, etc. The equipment they use is best in class from the x-ray machines to the dental chair. My dental chair even had a huge Apple flat panel screen to visibly show me where my teeth problems are! Yikes. If you have plaque or anything wrong with your teeth, they will find it, I assure you. The cleaning itself was as thorough as they come. The dental hygienist really worked hard to scrape the plaque build up on my teeth and in those hard to reach areas over the course of 30-40 minutes. If there was any plaque build up left after this first step of cleaning, the hygienist would use a high-powered water pressure dispenser to wash any any residue. The session ended with a thorough brushing and flossing. I consider myself to be pretty good about taking care of my teeth, so I was a bit surprised that I had a minor cavity (which I have to come back for) and was suggested to have even more deep cleaning, for an additional $1,200. The cavity fill is about $240. Yikes... To conclude, Expat Dental is the Ferrari of dental care. My total bill ending up being SG$465, consisting of the following: (i) $101.65 for the examination, (ii) $203.3 for the X-Rays and (iii) $160.5 for the cleaning / full mouth debridement. Expat Dental doesn't accept any insurance plans, so be sure you are willing to stomach the prices mentioned above. By my calculation, my insurance will only reimburse 25% of the following amount. If you are one of those folks who are apprehensive about using local dentists and want that peace of mind of ensuring you get the best quality dental care at any cost, then Expat Dental is definitely for you. However, if you are price sensitive about receiving a non-life threatening health care service, such as dental care, then it's probably best you take your chances with another practitioner, preferably one that takes your insurance :D They don't call it "Expat" for nothing.