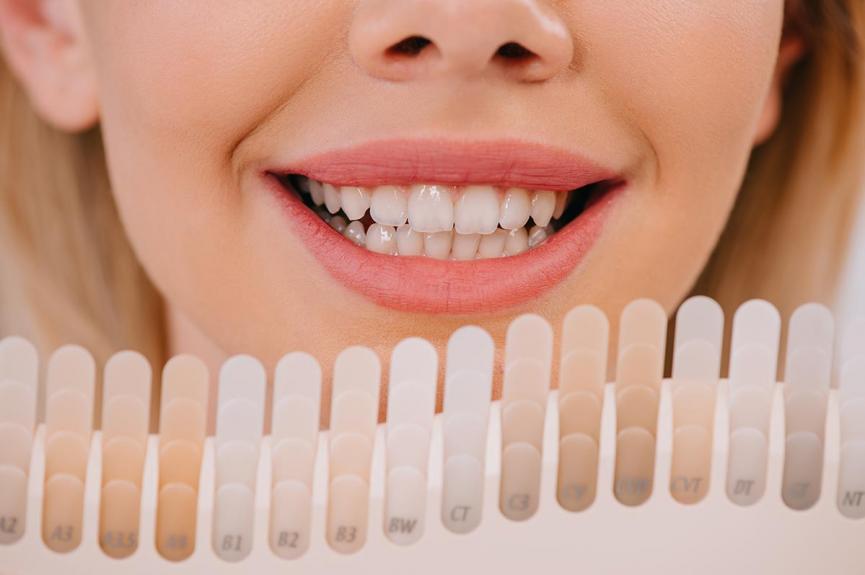 Everyone dreams of having a white Hollywood smile. A beautiful smile and sparkling white teeth are essential for making a good first impression. They help us feel better, more confident and definitely make us look more attractive. In-office teeth whitening treatments are without a doubt one of the best ways to achieve those pearly whites you dream of. It is, however, difficult for the majority of us to afford such therapies, considering they are extremely expensive in Singapore. This is when at-home teeth whitening kits come in handy. Besides offering convenience and ease of use, these products are generally very budget-friendly. But before you jump into the next hot online deal it is a good idea to find out which products are really effective. In order to save you time and money, we have selected some of the best teeth whitening kits available on Singapore's market.
Which are the best at-home teeth whitening kits in Singapore?
Without further delay, we will look at each at-home teeth whitening kit individually. You can learn more about at-home whitening kits at the bottom of the page if you're interested in that.
Crest 3D Whitestrips with Light Teeth Whitening Kit
Get Crest 3D Whitestrips with Light Teeth Whitening Kit now on Amazon
Crest 3D Whitestrips are one of the most popular teeth whitening products worldwide. Many people claim they have had noticeable results even after the first sessions. You can buy only the whitening strips or a set that includes Crest LED Accelerator Light.
Crest 3D White strips are peroxide-based thin strips. They are designed for home and professional use. The whitening strips are the perfect solution if you are in a hurry and want something that produces results quickly. Using the strips is simple and convenient. Thanks to its No-Slip Grip technology you will be able to speak and drink water during the session. In general, you should see the effect of the whitening strips after about three days. However, you will have to use this product for at least 20 days if you want to achieve the best results. Crest 3D White strips might be ideal for whitening your teeth at home in an easy and convenient manner. To boost the whitening effect use the strips in conjunction with Crest LED Accelerator Light. The device works 50% faster than strips alone.
How to use the strips? You just need to take the strip and place it on your teeth. Make sure you apply the gel side onto your teeth so that it is aligned with the gum line. Press lightly against the teeth to make better contact with the whitening gel. Strips should be used once a day for 30 minutes. Put the Crest LED Accelerator Light on during the last 10 minutes of your whitening treatment.
Helpful tip: To activate the ingredients, pull both ends of the strip gently before applying it to your teeth.
What should you be alert to? If you use the product for too long you might notice your teeth becoming more sensitive. You should see results within the first 3 weeks if you use them once or twice per day 1.
Cost in Singapore: Crest 3D White strips with Light Teeth Whitening Kit costs between $120 and $160.
---
Ultimate Carbon Coco Teeth Whitening Kit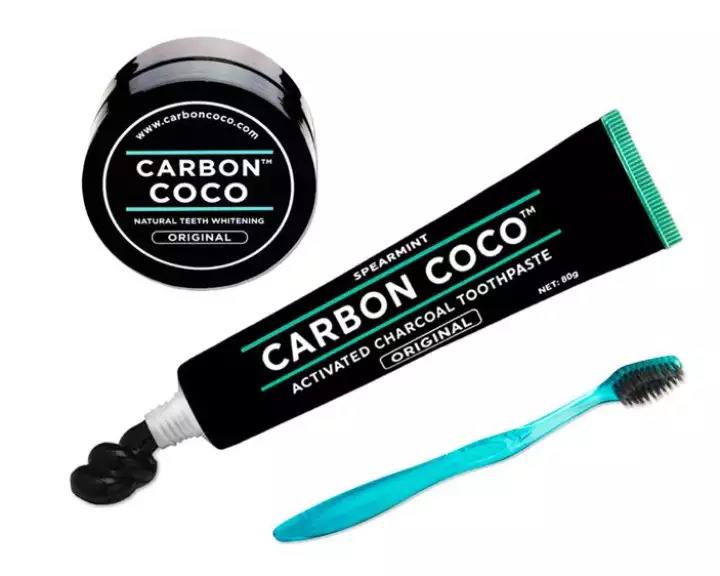 Carbon Coco is another great at-home teeth whitening kit available in Singapore. The set comes with 3 items: activated charcoal powder, activated charcoal toothpaste, and a bamboo charcoal toothbrush. The powder is a 100% organic product that has the power to remove stains from teeth caused by food and drinks. It is mainly made up of activated carbon derived from burnt coconut shells. By using the powder along with the whitening toothpaste, you will be able to protect your teeth from future stains. In addition, the spearmint formula of toothpaste promotes good oral hygiene and kills bacteria that cause bad breath.
How to use the kit? Wet the bamboo charcoal toothbrush and dip it into the jar. Make sure you brush your teeth for at least three minutes and then rinse your mouth. To achieve the best results, use the powder at night followed by activated charcoal toothpaste. Make sure to brush gently as to not harm tooth enamel 2.
Helpful tip: Make sure you use all three teeth whitening products together - the powder, toothpaste, and toothbrush. In this way, you can achieve the best results.
What should you be alert to? While brushing your teeth, make sure you are careful because the black paste can splatter and mess up your bathroom.
Cost in Singapore: Ultimate Carbon Kit costs somewhere between $55 and $70.
---
iWhite Instant Dark Stains Teeth Whitening Kit 10's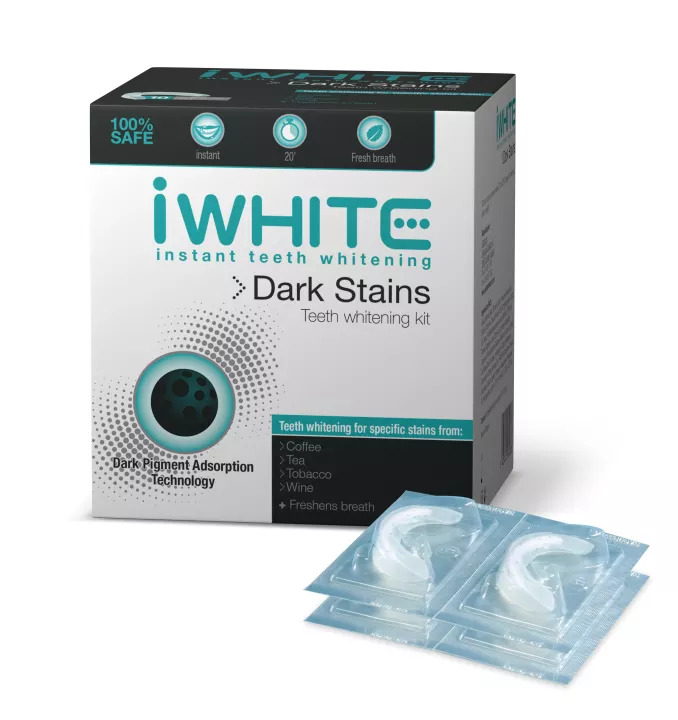 IWhite Dark Stains is a relatively new teeth whitening kit. You can buy it online on many different websites. IWhite Dark Stains is a great option if you have stains caused by smoking, coffee, tea or red wine. The product is safe and easy to use. The biggest advantage of this teeth whitening kit is that it produces immediate teeth whitening results.
The technology behind iWhite Dark Stains relies upon the powerful and binding properties of micropearls encapsulating activated carbon. Activated, these small pearls adsorb, neutralize, and remove dark spots and bad breath 3. In addition, using this product prevents plaque buildup and the accumulation of dark teeth stains in the future.
How to use the product? The only thing you need to do is to place the tray in your mouth and wait 20 minutes. Be sure that the gel is in contact with your teeth surfaces.
Helpful tip: Make sure you close your mouth gently after placing the tray on your teeth. Too much biting may cause the excess gel to leak out of the tray and away from the teeth.
What should you be alert to? Some people may not see results after the first use of the product, so they will have to repeat the process several times.
Cost in Singapore: The price of iWhite Dark Stains Whitening Kit is between $50 and $60.
---
iSmile Teeth Whitening Kit with Powerful RED & BLUE LED Light
Get iSmile Teeth Whitening Kit now on Amazon
When looking for an effective teeth whitening kit with LED light, iSmile teeth whitening kit with Led light may be your best option. The kit comes with 3 syringes of whitening solution, each of which can be used for 2-3 uses, 1 syringe for teeth remineralizing and desensitizing, as well as a powerful Red & Blue LED light. Carbamide Peroxide, a key ingredient in the teeth whitening gel, eliminates stains very quickly. The RED & BLUE LED Lights reduce bad bacteria and improve tooth sensitivity while boosting the whitening effect of the gel. A desensitizing gel that is included in the teeth whitening kit will protect your teeth after the treatment. Even after only a few sessions, you will notice a difference in the shade of your teeth.
How to use it? This product is easy to use. All you have to do is apply the whitening gel into the mouth tray, insert the LED mouthpiece and wait for 15 minutes.
Helpful tip: Avoid drinking coffee, tea or wine for 1 hour after using the teeth whitening kit.
What should you be alert to? During the whitening process, your teeth could become dehydrated and reduce the amount of insulation to your nerves temporarily. After using the product, be sure to apply the desensitizing gel to avoid such issues.
Cost in Singapore: The iSmile Teeth Whitening Kit costs between $100 and $120.
---
Mooi Teeth Whitening Home Kit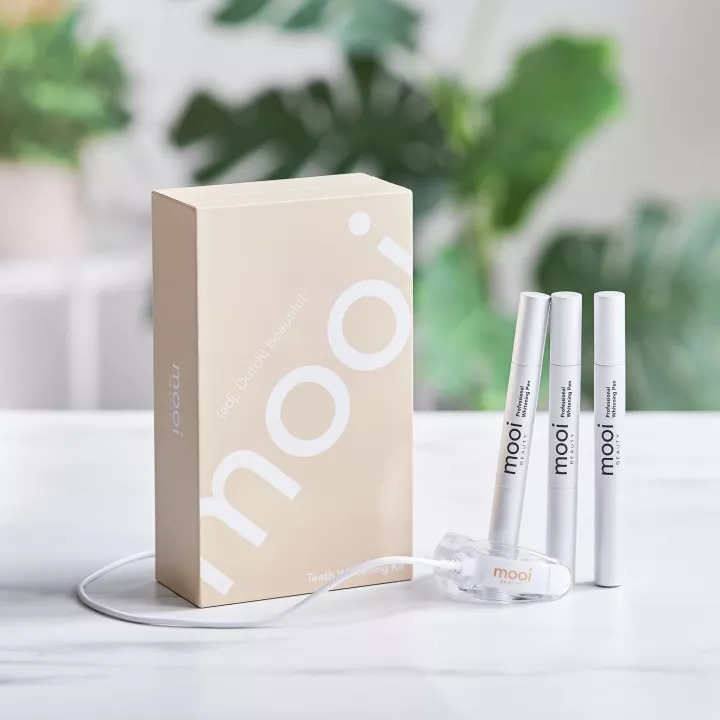 Mooi Teeth Whitening Home Kit may be the best option for you if you have sensitive teeth and gums. There is no bleaching agent in it, and it is peroxide-free. You can see the results after just three uses. The teeth whitening kit comes with 3 whitening brushes, 1 soft silicone mouth tray,1 adaptor accessory,1 user manual,1 Mooi teeth shade guide, and 3 brush pens which last for 4 - 6 days depending on individual usage. The product is great for removing plaque and treating surface stains caused by teeth-staining foods.
How to use the kit? The gel should simply be applied to the tray, then placed in the mouth. Afterwards, you will need to connect the teeth whitening device to your phone and let it act for 16 minutes.
Helpful tip: If the whitening results are not noticeable after one week of treatment, you can add more gel, up to 1/4 syringe per session.
What should you be alert to? Due to its non-hydrogen peroxide formulation, this kit may take longer to use than a product with bleach, but it is definitely a more natural and safe way to whiten your teeth. For optimal results, use the product every two weeks.
Cost in Singapore: In Singapore, the Mooi Teeth Whitening Home Kit is available for around $70 to $80.
---
Viaila Teeth Whitening Kit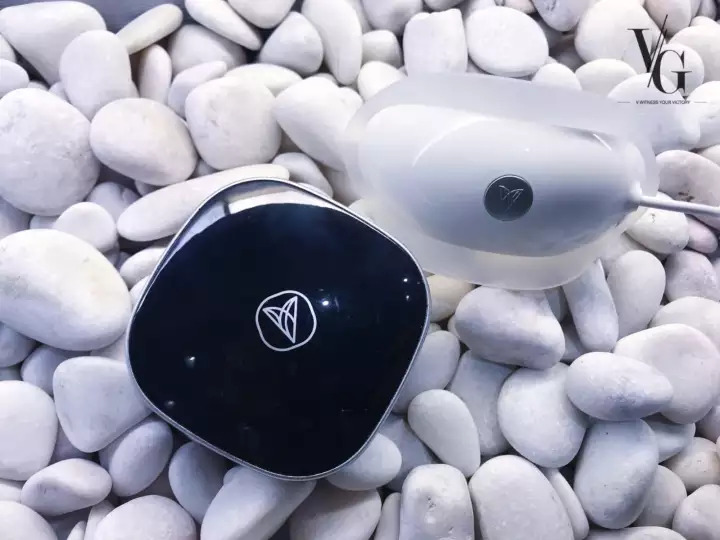 Another teeth whitening kit we have found to be very effective is Viaila Teeth Whitening Kit. Results can be seen in a week and you can do it from the comfort of your home. Viaila Teeth Whitening Kit uses advanced cold light technology in conjunction with low-percentage hydrogen peroxide gel. By using it, you can safely remove stains leftover from coffee, tea, and foods. The kit contains a booklet, a shade guide, a USB rechargeable blue light device, a waterproof mouthpiece, a recharging cord, a gel dispenser, and ten clean wipes.
How to use the kit? Its usage is similar to that of other LED light teeth whitening products that we mentioned above. You need to cover both sides of the mouthpiece with the whitening agent and then place it inside your mouth. An individual session will last for 20 minutes, following which the device will automatically turn off.
Helpful tip: After each usage, ensure you charge the device to avoid losing power while it is in use.
What should you be aware of? Be careful because there are some fake products on the market. Check to see if the kit you purchase has SGS and CE certifications.
Cost in Singapore: The price of this Viaila Teeth Whitening Kit is around $120 and $130.
---
Blanx White Shock Teeth Whitening Treatment (With Led Bite)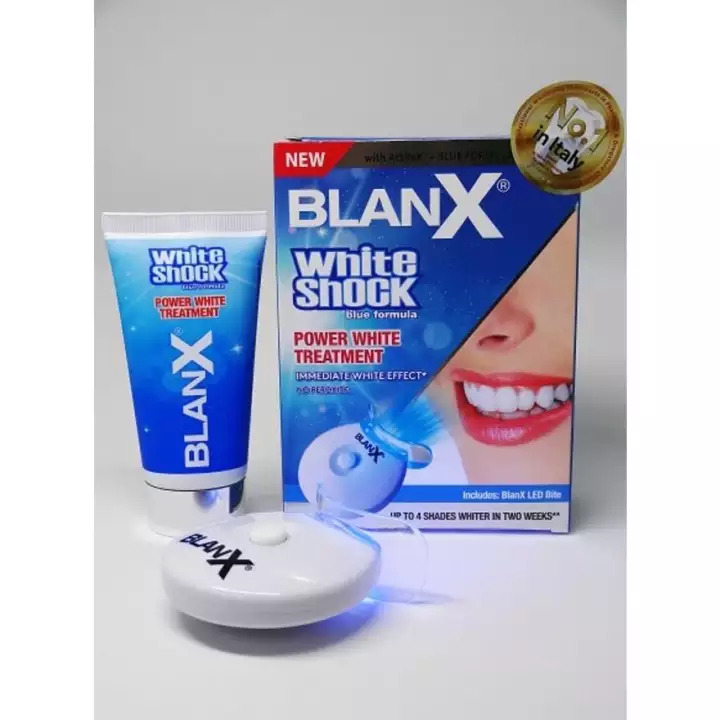 Blanx White Shock Teeth Whitening Treatment might be the ideal choice if you are looking for a more affordable home teeth whitening kit. There are many websites where you can purchase it for less than $40. The kit includes toothpaste as well as BlanX LED bite.
Actilux is a revolutionary formula protected by two international patents. By binding to tooth enamel during brushing, Actilux creates an invisible barrier that prevents yellowing. With the LED light provided as part of the set, you can enhance the whitening effect by activating the ingredients of the toothpaste.
How to use the product? For best results use the toothpaste as a regular one, three times a day. After brushing, put a Blanx LED Bite in your mouth and leave it there for one minute.
Helpful tip: The best way to maximize whitening action is to use Blanx LED Bite every week for 10 minutes at a minimum.
What should you be alert to? Compared to other DIY teeth whitening kits, it may take a bit longer to see results - approximately two weeks.
Cost in Singapore: Blankx White Shock Teeth Whitening kit is among the least expensive teeth whitening products - you will likely pay between $30-$40.
How Do Teeth Whitening Kits Work?
A home-based whitening kit simplifies the process of teeth whitening by offering a customized approach to suit your convenience. The process starts with the dentist obtaining dental impressions to create specially designed, soft gel-holding devices known as teeth whitening trays. These trays bear a close resemblance to orthodontic retainers.
Once you're equipped with the trays, you'll receive detailed guidance on the appropriate method of applying the teeth whitening gel. It's crucial to adhere to these at-home instructions and maintain regular oral hygiene practices.
During your teeth whitening regimen, you will be provided with a desensitizing toothpaste to utilize, ensuring optimal comfort throughout the process.
Main Benefits of Using At Home Whitening Kits in Singapore
A home-based teeth whitening kit is popular for several reasons:
Ease of use: The prime advantage is its convenience. It allows you to brighten your smile at your leisure, in the comfort and privacy of your own home. The process requires only 15 to 30 minutes of your daily routine or can be done while you're asleep.
Compact and portable: The kit's compact size makes it travel-friendly and suitable for hand-carry luggage.
Safe and non-invasive: Home-based teeth whitening is considered a safe procedure without significant side effects. The process does not cause any erosion or removal of the tooth surface during the whitening process.
Sustaining results of in-office teeth whitening: This kit serves as an effortless way to uphold the results achieved through professional chairside teeth whitening. Many individuals opt for in-office teeth whitening once a year and maintain their brilliant smile using the home-based teeth whitening kit in between treatments. It's a reliable method to enhance your smile just in time for interviews and special occasions.
Augmenting your smile: A brighter smile invariably boosts self-confidence. It subtly enhances facial features, encouraging you to flash your refreshed, radiant smile more frequently.
In conclusion
In general, there is no risk associated with any of the teeth whitening kits listed above. However, you should be careful and judicious when you use them so that you do not experience any side effects. All products come with instructions that you must follow strictly. It might not be a good idea to use at-home teeth whitening kits for too long. It is also important to remember that they cannot achieve the same results as dental whitening treatments performed at the dentist office. Dentists usually use stronger bleaching agents that can produce quicker and longer-lasting outcomes.