Address:
2 Kovan Road #01-03, Simon Plaza, Singapore 548008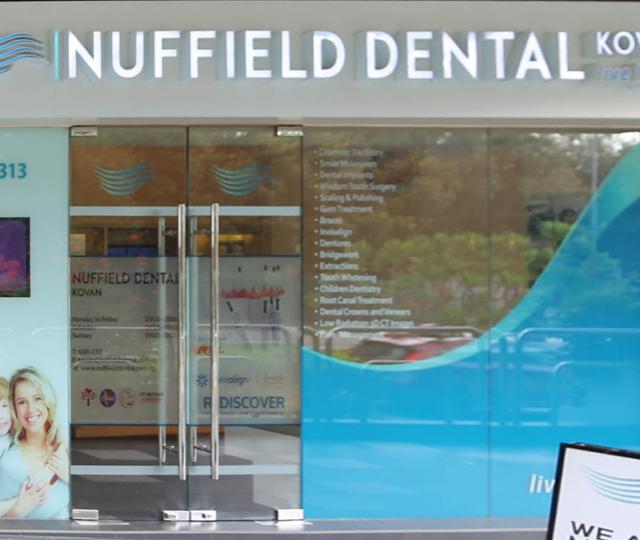 Customer Reviews
Facebook review:
Michael Harrison:
Had an emergency situation whereby I needed a root canal treatment. The previous day I went to a top brand hospital dental clinic and was given pain killers and antibiotics, and told to make an appointment in a couple of weeks to undergo the treatment once a doctor became available. Over night the pain intensified and I was unable to sleep. I called the hospital back and they said there was nothing they could do until the treatment scheduled appointment. I called Nuffield Dental @ Kovan and let them know of my dire situation and they immediately tried to assist by finding an open slot with one of the doctors. I was given an appointment immediately and asked to proceed to the clinic. On arrival my details were quickly taken and I was immediately seen by Dr. Eunice Tang. Dr. Tang was exceptional, she consulted with me on various options, details the pros and cons of each and with consideration she proceeded with a treatment plan that addressed the issue immediately. Dr. Tang's chair-side manner was exceptionally professional, very informative, respectful, and considered. My issue was dealt with immediately and I was fully informed of post-op considerations and care. The next morning I received a call from Dr. Tang following up on my wellbeing and to see if there was any additional care needed. EXCEPTIONAL SERVICE AND 5 STAR PROFESSIONAL CARE. Dr. Tang was amazing, I highly recommend her for any dental needs. I will be changing dentists for my family's needs based on the experience I had with Nuffield Dental and Dr. Tang.
Google review:
Joanne Yak:
Had my wisdom extracted by Dr Steffi and she's really skilful, no pain and was swiftly done. Her assistants were also very kind and gave me assurance as they knew my fear. The receptionists were friendly and always make it a point to check in or confirm appointment via texts and phone calls. Price was on the steep side but overall, it was a great experience. Thank you!